Amenities
1. Infrastructure : We have the office which is fully equipped with necessary amenities required to carry out all those functions of Insolvency Professional needs. We have a sufficient Conference Room within office premises to hold meetings with various stakeholders. And we have Screen and projector for visual presentations also have the latest updated Software ( Networking, Systems and Applications ) enabled to work on 15 nods/ terminal at a time with high speed data connections.
2. Arranging interim management : We have practical experience on working in corporates. Our team mates are also having similar types of experience in corporate at managerial positions. We are confident about our abilities to arrange interim management of the units put the task at its goal, as and when required under the assignments.
3. Secure and Protect Debtor's Asset : We have experienced team, association and network with various agencies, government authorities and business houses gives us sound ability to secure and protect Debtor's Asset if opportunity is given to us.
4. Sector / Industries of Expertise : We have got plenty of opportunities to work with large Industries of various sectors, We have handled large number of corporates and later as a Chartered Accountant We have carried out TEV Studies, DRP Preparation, Restructuring and Revival of many units with substantial finance exposure. We also got depth-knowledge and experience mainly in Infrastructure, Petrochemicals, Chemicals, Steel, Textile, Agrotech, Agroseed, Food Products and Engineering Units.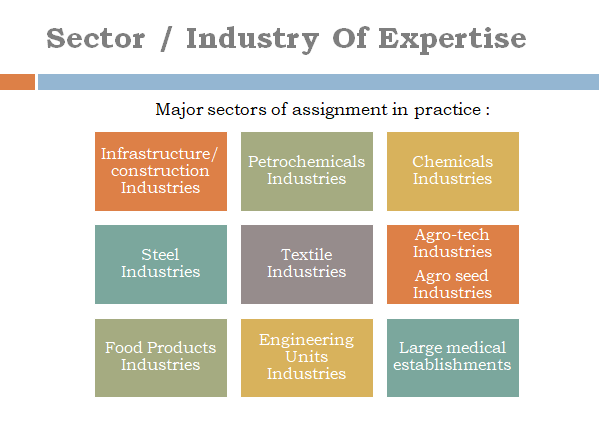 5. Large team of Professionals, Consultants and Advisors. :
Advisory Board Member

Retired Chief General Manager of State bank of India
Member of Institute of Chartered Accountant
Retired Senior officer as HR head of ISRO

Ex-Bankers

Mr. Avinash Ranade (B.A., LL.B.)
Mr. Shyamal Kundu, (M.com., CAIIB)
Mr. Maghabhai P. Parmar (B.A.)
Mr. Pravinbhai Rathod (B.com)

Chartered Accountant

Mr. Chandra Prakash Jain ( 35 Years Experience)
Mr. Rajendra Verma ( 34 Years Experience )
Mr. Atul Shah (36 Years Experience )
Mr. Pankaj Sharma ( 9 Years Experience )
Mr. Vaibhav Vakharia ( 4 Years Experience )
Mr. Samir Patel ( 8 Years Experience)
Ms. Anisha Nahata ( 4 Years Experience )
Mr. Ruchit Shah( 3 Years Experience)
Mrs. Veena Pawar ( 8 Years Experience)

Lawyer, LLB & Company secretaries

Advocate Abhishek Awasthi
Advocate Nikita Jain ,LLB
Mr. Vishal Mehta, (B.com, CS)
Advocate Rajiv Chawla ( BBA, LLB)

MBA, Management Consultants

Romil Singhal, a MBA
Avinash Manoji, a MBA (Finance)
Sameer Relia
6. Ability to Appoint Lawyers, Valuers, Accountants and Experts: As a team of Professional and Networking of large number of Multiple professionals in the field of Law, Engineers,CA, CS, CMA, and MBAs has capability to take the services of best professionals on assignment basis. As in professional career of Insolvency we have interacted with numerous professionals, Bankers, Industrialist and Government officers which has developed into our strength to take the service of various professionals if required.